Bespoke Engineering
Tailor made engineering is the core design philosophy at NBR.
NBR is built on a strong foundation of design and engineering excellence. We aim to meet our customer's expectations to the fullest. So understanding our customers real and practical needs, working together to co-create solutions is what our experts do day-after-day. We know that 'one shoe can't fit all'.
So instead of over emphasizing on standardization, we develop solutions that are customized to deliver maximum efficiency under practical operating conditions. Flexibility in the designing approach, prototyping speed, in-house testing competence, and integrated manufacturing capabilities is what makes NBR a preferred development partner for our customers.
Automotive trends
In an automotive industry, technological changes happen at a rapid rate. While in the long term trends towards the adaptation of electric cars, shared mobility and automatic cars will surely dominate the industry. The efficiency of internal combustion engines continues to be an area of high focus for the automotive designer's world-over. Some of the key trends that our customers demand are; the downsizing of engines, growing HVAC usage, increasing use of turbocharged engines, lightweight engines and finally increasing thermal efficiency while controlling emissions.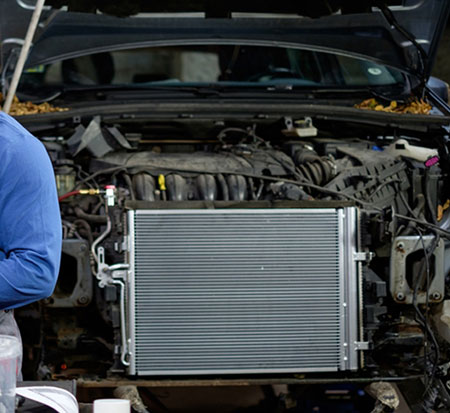 At NBR, design is an "outside – in" process. Our engineers spend a lot of time in understanding customer requirements such as:
Downsizing of heat exchanger thickness
Lightweight heat exchanger to achieve CO2 reduction
Optimizing heat transfer
Pressure drop reduction through heat exchangers to reduce fan power consumption
Supporting new designs complying with BSVI norms
Easy installation to reduce service cost
All of the above leads to the adoption of an integrated approach to analyzing and optimizing engine heat management.
Co-creating engine cooling solutions with our customers
Our early stage partnership for product development with our customer includes:
Detailed understanding of customer requirements
Partnering with OEM's for efficient engine cooling solution development
Providing early inputs to customer
Front grill opening finalization along with customer
Evolution of an optimized solution
NBR design release gates in synchronization with customer
Detailed technical steps include:
Concept design using 1D simulation tools.
Engine heat rejection data finalization
Cooling air specification finalization
Fan design finalization.
Component level simulation using MathCAD
Checking conformance to NBR design guidelines.
System simulation using Kuli
Developing robust design of heat exchangers
Designing cooling system modules like radiators or charge air coolers that fulfill customer's high-performance expectation, is a challenge that designers at NBR enjoy. Classical radiator designs are offered in multiple rows and in multiple fin density combination to optimize system performance.

Our designers have various options to choose from a wide range of tube shapes and dimensions. NBR offers specialized versions of high dimpled tubes for copper/brass radiators with bar/plate designs. Multiple fin designs are also available depending on the various types of application requirements.
Vast experience of our engineers in dealing with varied applications is captured and documented under NBR design guidelines. Leveraging this vast know-how and sophisticated design tools, our engineers are in a position to offer high-performance solutions that best fit customer's performance and dimensional needs.
Design verification and simulation
Our design engineers use modern tools for design verification before offering solution to our customers:
Fin design optimization using customized Computational Fluid Dynamics (CFD) software
Internal design and inside flow optimization through Computational Fluid Dynamics (CFD) models
Pressure Cycle Simulation using CAE software ANSYS
Stress Analysis of tube and header using CAE software ANSYS
Prototyping
In a highly dynamic market environment, customers are looking for significant increase in "time to market" efficiency.
At NBR, we have responded to this challenge by investing in a dedicated prototype development shop. This facility is equipped with advanced and flexible machinery that is ideally suited to manufacture prototypes at a short notice. This allows us to offer rapid prototyping to continually adapt to new and better solutions together with our customers.
Design validation
In order to ensure that our design meets the fit, firm and functional requirements specified by our customers, we use analytical as well as physical testing methods. Advanced analytical methods such as FEA, CFD etc. are effectively used by our engineers. We also have acquired extensive capabilities to carry out physical tests such as durability test as an integral part of our comprehensive product development process.
Some of the critical test capabilities at NBR include:
Wind tunnel to carry out heat exchanger performance test
Burst pressure rig
Vibration rig
Salt spray chamber
Thermal cycle rig
SWAAT chamber
Pressure cycle rig
Liquid nitrogen cold chamber
Combined vibration rig + pressure cycle rig
Internal corrosion test rig
Combined vibration rig + pressure cycle + thermal cycle rig
Fan motor cowl testing
Vehicle level validation
Our engineers actively participate in vehicle level tests carried out by our customers such as power train cooling test etc. Close cooperation with design experts from the customers organization is ensured at every stage of product development to outperform the expectations every time.